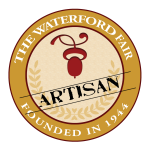 Barb Wagaman-Donough and Bob Donough design and create wooden game boards in Lancaster Co. Pa. Ridge Hollow Game Boards began in 1986, due to both an interest in playing game boards and a passion for the history and design of antique game boards.
Barb earned a BA degree in Fine Arts/Design in 1977. Her painting is greatly influenced by her Pennsylvania German heritage. Bob is a skilled stone mason and wood worker and appreciates the craftsmanship of colonial game boards.
Each board is handcrafted and hand-painted on wood, using milk paints, acrylics or oils. The game is antiqued and varnished. Antique reproductions represent those that were simple and homemade and others by skilled carriage and sign makers Folk art designs are Barb's original designs.
Demonstrations include painting of a game board and the history of board games, particularly those played in colonial America. Clay marbles can be made and one or more games are set up for children of all ages to play.