Dried Flower Barn
Consignment Information for Dried Flowers, Wreaths, Centerpieces, etc.
LOCATION:  Upper level of the Bond Street Barn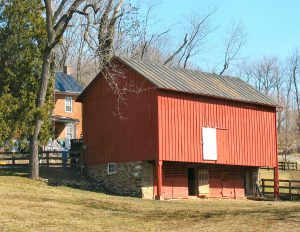 (across the street from 40132 Bond Street, Waterford VA 20197)
Click here for APPLICATION         Click here for CONSIGNMENT INFORMATION
Please read the following requirements:
All large bunches of dried flowers, including bittersweet and money plant, must be wrapped in clear plastic to prevent tangling. Any bunches not securely tied will not be accepted. Small bunches may be wrapped in tissue paper.
Bittersweet bunches must have the leaves removed. Bittersweet should be wrapped, but may have a small opening at top for ventilation. It will be bagged when purchased.
Items using all dried materials are preferred. Artificial materials may be incorporated if of high quality and limited to no more than 1/3 of any arrangement, wreath, swag, etc. Any item considered inappropriate or with too much artificial material will be rejected. Silk flowers are prohibited unless made by hand.  We have to maintain our stated mission of presenting traditional handmade crafts.
BEFORE YOU COME TO THE BOND STREET BARN FOR CHECK-IN:
Tag all items with your exhibitor number and the sale price (including the 25% commission). Items not firmly tagged will not be accepted.  Make tags large enough to be read easily.
If you do not have an exhibitor number, please contact the Waterford Foundation office (phone 540-882-3018 ext. 4 or email [email protected]) and a number will be assigned to you.
List your consignment inventory on lined loose-leaf notebook paper, with your exhibitor number, name, address and phone number at the top. List the items you are bringing, the price and how many at that item price.  (Numbers only needed, not descriptions.)  A 3-part Consignment Record form will be filled out during check-in.
THERE WILL BE ONLY ONE CONSIGNMENT DATE:  Saturday, September 29: 10 am to 4 pm
No consignments will be taken on Sunday!
Bring two copies of your consignment inventory (hand printed on notebook paper is fine). Go directly to the Bond Street Barn.
After check-in, remove any cardboard or other boxes that you use. Debris from the boxes may be deposited in the large trashcan; all boxes should be taken away with you. Thank you for your cooperation.
ENTRY FEE: $30.00 per exhibitor (checks to: Waterford Foundation). Please pay on arrival.
COMMISSION: 25% on items sold; payment will be mailed no later than Thanksgiving.
AFTER THE FAIR:
Please pick up whatever did not sell on Monday. Oct. 8, 10:00 AM to 1:00 PM
            There will be no pickups the weekend after the Fair!
Be sure you have picked up all of your unsold items. The Waterford Foundation is not responsible for goods left after pickup time.
Please realize that all workers are volunteers. Special exceptions for delivery and pickup cannot be made.
CAN YOU VOLUNTEER?
The success of the Waterford Fair, and the Dried Flower Barn in particular, depends on our volunteers. Please call Billie Wynkoop to schedule your time slot today!
If you volunteer to help at the Dried Flower Barn before, during and/or after the Fair for a minimum of 4 hours you will receive free admission to the Fair the day of volunteering and one (1) additional ticket.
QUESTIONS?
About the Bond Street Barn exhibitor or consigning:  Billie Wynkoop – (304) 725-2481.
About exhibitor numbers or payment for sales:  Tracy Kirkman can be reached at (540) 882-3018 ext. 4 or by email at [email protected] Instructions: Click here  to open a writable pdf. Please download the pdf, fill out the form on your computer and print. If your computer automatically opens a print dialog box, just close the box and download the file. You can print blank copies if you want to fill in the form by hand.
You will need to print two copies of your inventory each day of the Fair.