Due to COVID-19 the Fair is going Virtual! Please check back for details in September to Plan Your Visit
It's a fair like no other! Join us for our three-day celebration of all things handmade. Over 100 juried artisans from across the country gather in the National Landmark of Waterford, Virginia to exhibit and demonstrate jewelry, clothing, furniture, and home décor craft.  It's your chance to touch, feel, and explore high-quality American craft and meet the makers behind the fabulous work.
The sleepy village comes alive with period re-enactors, live music, heritage farming exhibits, a wine & beer meadow, local foods, homes tours, art and photography exhibits, hand's on activities for the kids and more!
Proceeds from the Waterford Fair benefit the preservation and education efforts of the Waterford Foundation whose mission is to preserve and protect the Landmark District, and through education, to increase the public's knowledge of life and work in an early American rural community.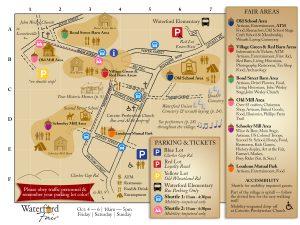 2019 Fair Map
Click to enlarge   download
What is included in the ticket price?
Parking, admission, tour of historic homes and all exhibit buildings, all entertainment and re-enactments, craft demonstrations, and hand's on children's activities. Food and drink will be available for purchase.
What do you do if it rains?
The Fair goes on rain or shine. All buildings and vendors are open. Please dress accordingly.
May I bring my dog?
Please do NOT bring pets. The streets are crowded, and animals cannot be taken into buildings nor left unattended outside. There is no readily accessible water for thirsty pets.
Food
The Waterford Fair offers wonderful foods throughout the village! Check out the Food & Libations page for the full listing of foods at the Fair. You can expect to find local producers selling baked goods and honey, Virginia wines and beers, traditional Fair foods such as kettle corn, BBQ and funnel cakes as well as local non-profits who set up food tents in the Village.
Lodging
Find great lodging options and some special deals available for Waterford Fair guests. Local Bed & Breakfasts and hotels are ready to give you an exceptional lodging experience on your weekend at the Waterford Fair!
Please note that there are limited rooms available with discounts for Fair patrons. Please make your reservations as soon as possible.
When making reservations, please state that you will be attending the Waterford Fair.
Parking
Parking is free!
There are three parking areas located on the edge of the village along the main entryways into Waterford: the Red, Blue and Yellow lots. Signage and traffic personnel will direct you to parking areas. It is a short walk from parking areas to the ticket/information booths and the village.
Accessibility
The Waterford Fair takes place throughout the village of Waterford and its surrounding fields. With its hills and uneven roads and sidewalks, it is not easy for physically disabled people to navigate. We offer limited handicapped access facilities and parking at each entry gate. Most of the historic buildings and private houses on tour are not wheelchair accessible.
A designated handicapped drop-off area is located at the Catoctin Church. After drop-off, please proceed to the Red Lot to park. There are marked handicapped spaces at the entrance of the Blue Lot (Huntley) and the Red Lot (Water Street Meadow). There are no units at the Yellow Lot (Phillips Farm).
Limited shuttle service is normally provided for mobility-impaired guests.
Tickets
Purchase advance tickets to the 2019 Waterford Fair on Eventbrite and save! Advance ticket sales will begin in August 2019 and end right before gate sales open at the Fair.
HAVE A CHANGE OF PLANS? Or, not sure which day you want to come? No worries! The Waterford Fair will honor your ticket purchase on ANY DAY of the Fair.
Children 12 and under are free. This is a rain or shine event. Proceeds from the Fair support the mission of the Waterford Foundation and tickets are non-refundable.
Please make sure to print your tickets from the Eventbrite website when you purchase and bring them with you to the gate.
Directions
From the Beltway: Rt.267 (Dulles Toll road/Greenway) towards Leesburg, Virginia. Left exit onto Leesburg bypass (Rt. 7) west. Exit Rt. 9 west (Charlestown/Hillsboro). Right at the gas station onto Rt. 662 (Clarke's Gap Road). 2½ miles into Waterford. You will be directed to parking.
From Baltimore and Frederick, MD: I-70 to Rt. 340W towards Charlestown, exit at 17 towards Brunswick, go through two round-abouts to continue on 17 South, at traffic light bear right to stay on 17 South (Berlin Turnpike), cross the Potomac river and continue on Berlin Turnpike. In Lovettsville, go around the "squirkle", at the end of the road turn left on Berlin Turnpike, go 250 ft. and turn left on Berlin Turnipke, go 350 feet and turn right on East Broad Way, which turns into Milltown Rd. Follow Milltown Rd.for 6 1/2 miles. You will be directed to parking when you reach Old Wheatland Rd.
From West of Waterford: Rt. 7 to Rt. 287 to Rt. 9 Left on Rt. 704 (Hamilton Station Road) and follow to end. Left onto Clarke's Gap Road (Rt. 662). You will be directed to parking. If you are coming in from West Virginia follow Rt. 9 east through Hillsboro, VA. Cross Rt. 287 at traffic light. Left on Rt. 704 (Hamilton Station Road) and follow to end. Left onto Clarke's Gap Road (Rt. 662). You will be directed to parking.