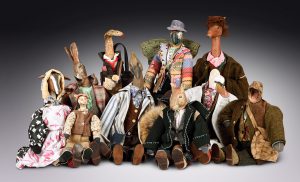 Waterford Landmark Artisan
I am a mixed media artist working in natural fiber, wood, repurposed antique or vintage fabrics, leather, and clay. I use antique, wooden hat molds to create wet and needle felted merino wool or alpaca hats, scarves, bags and pins. I hand carve people and animals from wood or sculpt them from clay to create primitive, mixed media art dolls using salvaged fabrics, leathers and found objects to dress and accessorize them.  I use hand tools and traditional methods in all my creations. My felted pieces are functional art, preserving the use of vintage tools and reviving fashions.  My dolls are sculptural extensions of my interest in folk art, in preserving worn textiles which might otherwise be discarded, and in maintaining a sense of nostalgia for historical treasures.
If you would like to follow my daily work in progress, follow me on facebook https://www.facebook.com/VillageFolkByAndreaDurnell/ or have a look at my website (https://www.andreadurnell.com) to see some of my past work. I am not selling my hats online this year, but dolls are open for adoption!