Participate
Food & Drink Merchants
We're on the lookout for exceptional food trucks, stands, and carts to make the Waterford Fair a delicious destination. We would like savory and sweet offerings, traditional fair and gourmet options, as well as coffee, tea, and other refreshing, non-alcoholic drinks to keep our crowds fed and happy!
Sponsor The Fair
Business and Patron (indivdual & family) opportunities from $150-$5,000. Details below.
Other Participants
If you participate in one of the following categories,  applications will be accepted starting early Summer: Fine Art, Art Mart, Dried Flower Barn, Farmers Market or Baked Goods at the Old Mill. Check back soon.
Volunteers
Visit our Volunteer Page for the full list of opportunities!
Share Your Waterford Fair Memories via StoryCorps!
Help us save and share these stories by joining our StoryCorps Community "Voices of Waterford, Virginia". Record your interview(s). They will be preserved at the American Folklife Center at the Library of Congress. You will need a free StoryCorps account to join the community and/or record interviews. You can also download the StoryCorps APP to make it really easy!
Get out the latest news from Waterford!
Receive our email newsletter by signing up below:
THIS YEAR AT THE WATERFORD FAIR
Featured Guests
LIVING HISTORIAN
Eugene Scheel
Eugene Scheel has been drawing detailed historical maps since 1972; his recent include: American Indian, Civil War, Potomac River; and new editions of the mammoth Loudoun, Fauquier, Culpeper maps. He is the author of 9 books on Virginia History, and provider of over 50 historical maps covering Virginia, other states and foreign nations. Autographed originals available for purchase.
Old Insurance Building (village center, next to post office on 2nd st)
MASTER ARTISANS
Exceptional creations
Artisans who demonstrate at the Waterford Fair are juried by professionals in the field. Their work must be made with traditional methods and display the highest quality of their craft.
Many artisans return to the Waterford Fair year after year and every year there are new artisans. Several Waterford Fair artisans also teach their craft at the Waterford Craft School.
Waterford voted in the Top Ten of America's Favorite Towns for Craft Lovers!
American Craft Week 2018
WATERFORD HISTORY
THE OLD MILL
The Old Mill is an icon of Waterford and has been utilized by the Waterford Fair since it started in 1946. It is a fitting home for the traditional arts and crafts sold there every year. This year is no exception!
SUPPORT ARTISANS
BUY MADE-BY-HAND
Thank you for supporting artisans who are keeping traditional made-by-hand arts and trades alive at the Waterford Fair. Not only do you help sustain artisans and natural food-producers by purchasing their products, you help them pass the torch to future generations by learning about what they do, watching their demonstrations, and taking classes from those who teach.
EXPLORE WATERFORD'S
AFRICAN-AMERICAN HISTORY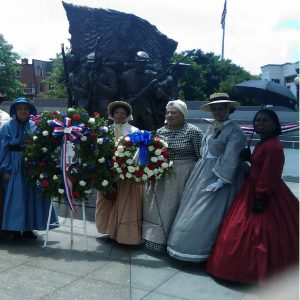 Living history is always part of the Waterford Fair. From African-American interpreters and Civil War re-enactors to period-correct entertainers, you can experience history in an up-close and personal way.
FREED's mission is to educate the public and to promote the accomplishments of the African American Civil War Soldiers and women who supported their fight for freedom. Celebrating its 20th anniversary, the African American Civil War Museum in Washington, D.C. features a rich collection of artifacts, documents, primary sources and technology to create a meaningful learning experience for families, students, Civil War enthusiasts and historians about the period from the American Civil War to Civil Rights and beyond.
what people

love

about the Waterford Fair
"I love the arts and crafts and my significant other loves the craft beer. Bonus, its a beautiful place!"

C FROM ASHBURN, VA
"This is how we get to see a little bit of America."
M FROM SPRINGFIELD, VA
"We were told by a friend if we were ever on the East Coast the fair is a must and we agree!"
D & B FROM SANTA ROSA, CA
2019 Artisan of the Year: Justin Kauffman
The Waterford Foundation is pleased to recognize Justin Kauffman as the 2019 Demonstrating Artisan of the Year! Since you will not be able to visit Justin in person to see his work, please take a few minutes to read his bio and visit his page.
Justin Kauffman, craftsman and owner of Kauffman Fine Furniture, was born and raised in northern Indiana. He studied Bible and Religion at Anderson University during which time his love for creating furniture began in the small shop of his wife's grandfather. He went on to study Old Testament and Biblical Languages at Gordon-Conwell Theological Seminary in South Hamilton, just north of Boston, while he continued to design and build furniture.
After completing two master's degrees at GCTS, he decided to pursue furniture making. He enrolled at the oldest trade school in America, North Bennet Street School, in their renowned Cabinet and Furniture Making department. It was there that he refined his craft through the study of the tools, methods, joinery, and design used during the 18th century, which was the pinnacle of American furniture. Since the opening of Kauffman Fine Furniture in 2007, Justin has been building formal period furniture for clients across the country and, over the years, has been recognized nationally as crafting some of the finest authentic period furniture being commissioned today. Justin now lives and works in Noblesville, Indiana with his wife, Audra, and sons, Daniel, James, and Joel, where he designs and builds period furniture.
Meet the 2021 Waterford Fair Artisans
We are excited to welcome these talented heritage and contemporary artisans to the Fair!
Artisans went through the jury process and have been accepted in the following mediums:
Basketry, Clay, Fiber/Textiles, Heritage Foodways, Furniture, Glass, Jewelry, Metal, Mixed Media, Paper, and Wood.
MORE ABOUT THE PROGRAMS OF
The Waterford Foundation
LEARN MORE ABOUT THE
Waterford Foundation
The mission of the Waterford Foundation is to preserve the historic buildings and open spaces of the National Historic Landmark of Waterford, Virginia and through education to increase the public's knowledge of life and work in an early American rural community.
SIGN UP FOR OUR EMAIL NEWSLETTER

Get the Latest News
The Waterford Foundation e-newsletter is published bi-monthly.
The Waterford Foundation reserves the right to use any photograph/video taken during our events for 
our use including online and in print. By entering the event premises, you consent to being filmed and/or photographed for promotional purposes.  Any person desiring not to have their photo/video taken or distributed must contact

[email protected]

org in writing of his/her intentions before the event.