Callaway Colonials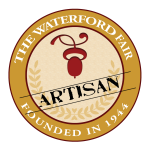 Mixed Media
Having an interest in history and art, we have combined both to create decorative & utilitarian items from gourds-Folk Art Gourd Pottery. Throughout history there are many references to gourds. As the world's oldest pottery, they have been used for their functionality as containers of all sorts worldwide. During the fair we will explain the background & historical use of gourds and the preparation of them thru cutting and cleaning. A gourd that is planted one year,dries for months and is ready for use the following year is very unique & is of interest to the public.
The techniques we use on our work include: carving,watercolor,paint,pen&ink,dye work and wood burning. Our line consists of bowls, baskets, jugs, vases, canisters, pockets, clocks and pitchers. Designs are inspired by historical motifs, botanical/nature, graphics & seasonal. We will display in a beautiful period style canvas tent.
Our gourd work has been featured in magazines, television and part of other quality art events.