Steinhagen Pottery
Clay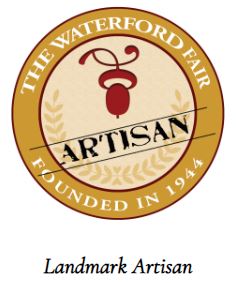 2021 Artisans of the Year
Steinhagen's work draws heavily on the redware pottery produced in the 18th century by potters in England and by the Pennsylvania German tradition. They create forms that mirror the everyday plain mugs, bowls, and plates used in homes across the American colonies, and take special delight in reproducing unusual and decorative forms – puzzle mugs, harvest jugs, pierced double-walled pieces, sculptural posset pots. They conduct ongoing research (both here and in England) to gain a deeper understanding of the breadth of work produced by early potters. Steinhagen often uses their findings as a springboard to create original works that speak to the traditions of the past and connect them to the present day.

Erich's been a potter since he was in high school. We met in college in western Pennsylvania when we were both art majors, 45 years ago. He kept up with the pottery as a side gig through three kids and 30 years in a 9 to 5 job, but it wasn't until about 20 years ago that Janice finally gave in to his encouragement to try sgraffito on his pottery. That's when our work really took off. All the wheel and sculptural work is done by Erich; Janice does the sgraffito, and also makes slump-molded plates, brooches and ornaments.
We enjoy collaborating to create an interplay of the clay forms and the inscribed motifs, which freely borrow from both Pennsylvania German and British folk pottery traditions. And the use of text (again, a traditional design element for both German and British styles) speaks to Janice's 40-year career as a journalist and wordsmith. One of our favorite current projects is creating mugs with quotes from our founding fathers and mothers, ranging from George Washington and Alexander Hamilton to Abigail Adams and poet Phillis Wheatley. Their words resonate even more deeply today, and we love engaging people in history through stirring words that speak to the present moment.