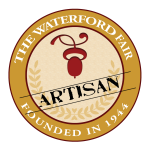 Fiber/Textiles
I am a hand spinner, weaver, knitter, and crocheter and I like to experiment with felting and other textile related work. I prefer to use natural fibers, but find it sometimes necessary to include man-made fibers.
My weaving includes rugs, place mats, table runners, scarves, and shawls. The rugs are primarily re-cycled cotton or wool. I really enjoy the challenge of re-purposing used textiles into "new" functional items.
I knit, weave, and crochet hats, scarves, socks, gloves, and mittens and I use my hand spun yarn in some of these items. I also knit and then felt wool hats and embellish them with hand embroidery. All items are my own original designs.
I would like to demonstrate weaving on my small four harness floor loom. I will prepare re-cycled clothing/fabric and then weave it into "hit or miss" rag place mats. I enjoy weaving very much and like to share it with others. Both children and adults are welcome to weave on my loom.