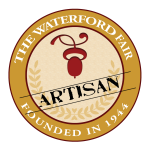 Clay
Winton Eugene throws pottery on a wheel and decorates it, and Rosa Eugene glazes it. As two self-taught artists, pottery-making was a second career for both: Rosa Eugene was a nurse, and Winton Eugene had been a carpet installer and an army paratrooper during the Vietnam War—though he had always seen himself as an artist. In 1985 they retired to Cowpens, SC, where they continue to work and sell from their home studio today.
Techniques: Pieces are thrown on a potters wheel, pinched, coiled and hand-painted. The relief technique is drawn on with a pencil and clay is excised from leather hardened pottery. Glazes are mixed and applied to the frame the art work and enhance each detail.
Kid Friendly! Clay will be available to children to try making pinch bowls, frogs, mugs, turtles and worms, which will be demonstrated along with carving, etching and relief.