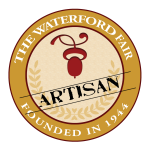 Pottery By Eugene
Clay
Winton Eugene throws pottery on a wheel and decorates it, and Rosa Eugene glazes it. As two self-taught artists, pottery-making was a second career for both: Rosa Eugene was a nurse, and Winton Eugene had been a carpet installer and an army paratrooper during the Vietnam War—though he had always seen himself as an artist. In 1985 they retired to Cowpens, SC, where they continue to work and sell from their home studio today.
Working together as a single unit can be an artist's nightmare, but for the Eugene's it has proven to be the ultimate release of creativity. The collaborative effort of a husband and wife team has expanded their ability to see beyond their presence. To see the essence of shape, to capture its form at the moment of conception. To go beyond a simple idea and create a new and exciting possibility; to bend the rules and write new ones. Winton and Rosa can co-exist in a single idea and weave a web with varying potential—they refer to it as a meeting of minds in the same space, in the same place in time. They rely on their passions in the creative process. Winton loves design and function, Rosa is captured by shape and colors. These passions combine into a creative dance ending in a final product with balance and harmony. It starts with clay and ends with glaze, the design and shape are then tested by fire. The endless love of clay, the imagination and passions of creating will always make "Fire."
Kid Friendly! Clay will be available to children to try making pinch bowls, frogs, mugs, turtles and worms, which will be demonstrated along with carving, etching and relief.